McIntosh MC611 Quad Balanced Monoblock Amplifier (Single) - NEW
Sale price

$8,000.00
Regular price
(/)
---
Click here to schedule an appointment to visit our store.

Please note this item must be purchased in store and we will not ship under any circumstances. Click here for more information about this policy.
Please support your local McIntosh Dealer.
Standout Features:
600Watts @ 2, 4 or 8 Ohms
Quad Balanced Design
Legendary McIntosh Autoformers in Output Stage
Power Guard and Sentry Monitor for Ultimate Protection
Power Control to easily integrate with other McIntosh components
General:
The monoblock MC611 Quad Balanced Power Amplifier produces 600 Watts of power – enough to satisfy nearly any loudspeaker. A pair of MC611s can easily drive an impressive home stereo system, or add more of them to power a home theater. Thanks to our unique output Autoformer™ technology, your speakers will receive the full 600 Watts regardless if they have 2, 4 or 8 Ohm impedance, allowing you the ability to use the MC611 to its full potential.
"The MC611 is one of the most beautiful sounding amplifiers I've ever heard, and at the same time is one of the most realistic sounding amplifiers I've ever heard. And this continues to blow me away every time I turn the MC611s' power on." Winner of Best of 2018 Blue Note Award. - Enjoy The MusiThe MC611 has received numerous updates and improvements compared to our previous 600 Watt monoblock model. Chief among them is that filter capacity has been doubled which has resulted in a dramatic 55% increase in dynamic headroom from 1.8dB to 2.8dB. This twofold increase in filter capacity also helps improve the performance of low end bass frequencies."The MC611s offer massive power with minimal distortion at all frequencies, into any load. In doing so they are virtually unique… Easy going silky smooth sound, richly detailed and dynamically awesome." Awarded 5 out of 5 Globes. - Hi-Fi World

 
The front panel features new direct LED backlighting for improved appearance and color accuracy. On top, the audio Autoformer and power transformer remain seated just behind the front panel, but are now contained in new glass topped enclosures. Behind them are 2 of our Monogrammed Heatsinks™which connect to advanced high current output transistors that help eliminate thermal equilibrium lag time. A screening of the amplifier's block diagram has been added to the panel located between the heatsinks.
"Attack, sustain, decay came through with such clarity and power you – I – rarely hear through high-power amplifiers... Highly Recommended, A++++." - Audiophile Style

 
On the back, there continues to be 3 sets of our Solid Cinch™ speaker binding posts (1 set for each speaker impedance), but more space has been added between each set to allow for easier speaker cable management. Our eco-friendly power management system, which will turn the amp off after a set amount of time when no input signal has been detected, has also been added. Other enhancements include heavier gauge internal wiring and upgraded circuit components.McIntosh Solid Cinch speaker binding posts.
"A rare combination of effortless power and sophistication" that allows it to easily "drive almost any type of speaker." Highly Recommended: 6 Stars - Lyd & Bilde

 
In addition to all these improvements, the MC611 is full of other exclusive McIntosh technologies:
Power Guard® that monitors and adjusts the input signal at the speed of light and makes real time adjustments to prevent harsh sounding and potentially speaker damaging clipping
Sentry Monitor™ - our fuse-less short-circuit protection circuit that disengages the output stage before current exceeds safe operating levels and then resets automatically when operating conditions return to normal
Quad Balanced design that cancels virtually all noise and distortion that may have crept into the audio signal
Power Control to send power on/off signals to other connected McIntosh components for easy system power up and shutdown
Both a balanced and unbalanced output are included to make bi-amping or tri-amping your speakers easier; they can also be used to send the audio signal to a secondary system if your preamplifier does not have enough outputs, or to connect a powered subwoofer.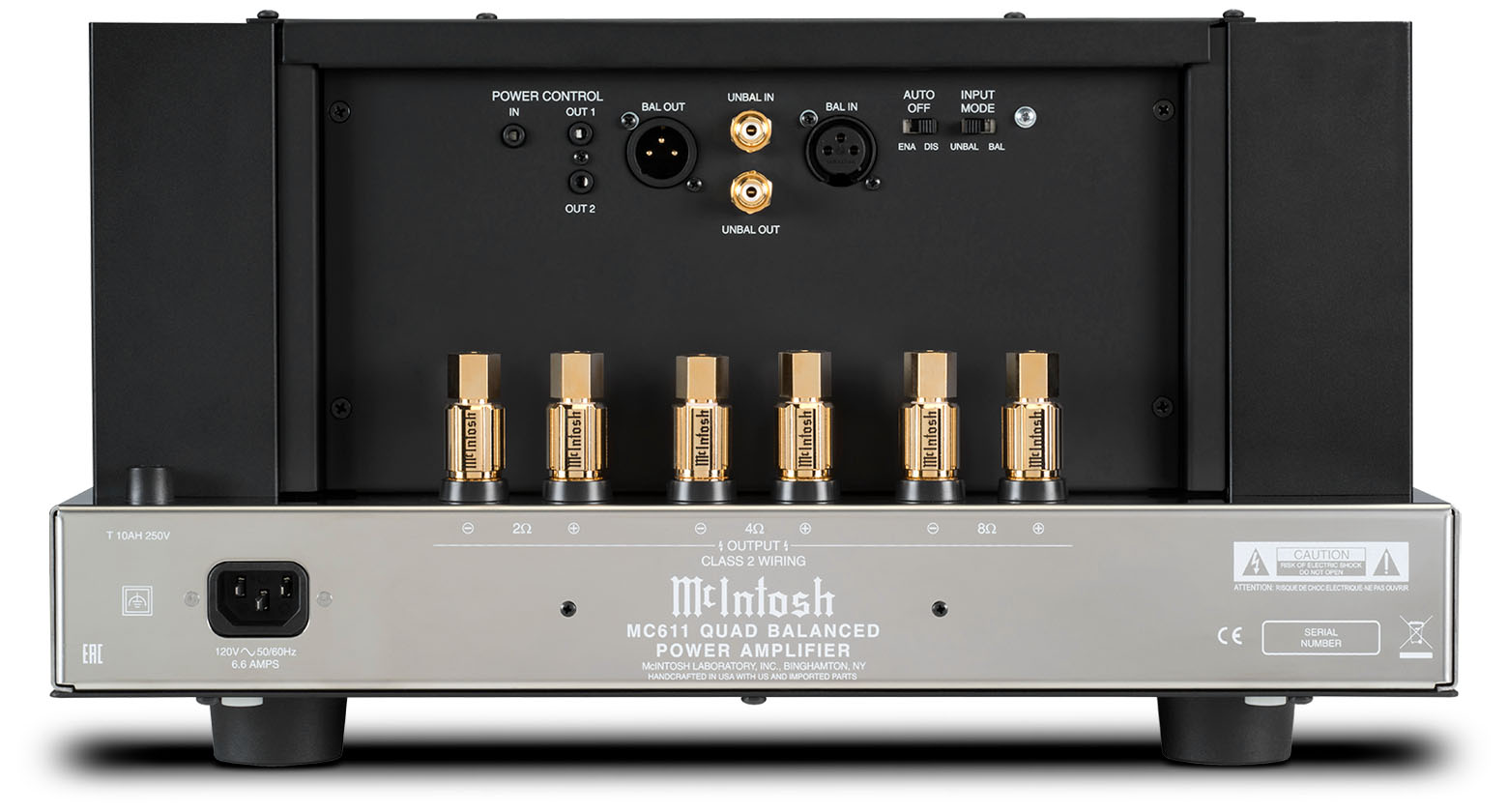 "Natural, effortless control of dynamic swings, a linear power response throughout the frequency range, a true sense of fidelity to the recorded event, a Muhammed Ali-like speed and power propelling every note, deep authentic bass and a wonderfully human and palpable midrange with an organic, yet polished aural touch." - AudioStream

 
The MC611 sits on a beautiful polished stainless steel chassis and features the timeless McIntosh aesthetic of a black glass front panel, illuminated logo, control knobs, aluminum handles and of course a large 8" (20.3 cm) fast responding blue Watt meter.

Brand Background:
Founded in 1949, McIntosh is known for offering distinguished home audio systems that deliver the ultimate experience in music and film. Offering products for two-channel stereo sound systems and multi-channel home theaters with surround sound, McIntosh continues to define the ultimate home audio entertainment experience for discriminating listeners around the world. Our iconic blue Watt output meter is globally recognized as a symbol of quality home audio. With a McIntosh home stereo system or home theater, listeners have the ability to create their own luxury audio experience Ð and truly live their music.
McIntosh products are designed and handcrafted at our Binghamton, NY factory by our dedicated employees who share a passion for music and the McIntosh heritage. Since our inception, McIntosh has been powering some of the most important moments in music history and pop culture. From President Lyndon JohnsonÕs inauguration speech to Woodstock to the famous Grateful Dead ÒWall of Sound,Ó McIntosh has not only witnessed history, we have shaped it.


Connections:
XLR Input and Output, ICE Power, 12 Trigger Input and Output, 5 Way Speaker Binding Post for 2, 4 and 8 Ohm Outputs

Included:
Amplifier, Manual and Power Cord 
Factory Sealed McIntosh Carton

Dimensions:
Unit Dimensions (W x H x D)17-1/2" (44.45cm) x 9-7/16" (23.97cm) (including
feet) x 22" (55.88cm) (including front panel, handles and cables)

Weight:
97.5 lbs (44.32 kg)
Reviews:
https://www.enjoythemusic.com/superioraudio/equipment/0718/McIntosh_MC611_Review.htm

Link to Manual:
https://www.mcintoshlabs.com/-/media/Files/mcintoshlabs/DocumentMaster/us/mc611om02.pdf?rev=342490fdf488469a85a569122daf90d2&revision=342490fd-f488-469a-85a5-69122daf90d2
Link to Brochure:

https://www.mcintoshlabs.com/-/media/Files/mcintoshlabs/DocumentMaster/us/MC611-brochure-35107600.pdf?rev=413ac209601c43158872c2eb781a357e&revision=413ac209-601c-4315-8872-c2eb781a357e

Recommended Cables:
McIntosh Balanced Audio Cables (XLR)

McIntosh Power Control Cables

Specs:
Power Output: 600 Watts into a 2, 4 or 8 Ohm speaker
Total Harmonic Distortion: 0.005% maximum from 20Hz to 20kHz
Signal to Noise Ratio: 124dB Balanced 120dB Unbalanced
Dynamic Headroom: 2.8dB
Damping Factor: Greater than 40 Wideband
Frequency Response: +0, -0.25dB from 20Hz to 20kHz +0, -3.0dB from 10Hz to 100kHz
Click here to schedule an appointment to visit our store.

Please note this item must be purchased in store and we will not ship under any circumstances. Click here for more information about this policy.
Please support your local McIntosh Dealer.
McIntosh MC611 Quad Balanced Monoblock Amplifier (Single) - NEW
Sale price

$8,000.00
Regular price
Choose options